Splurge Vs. Save: Shoe Edition
12/27/2017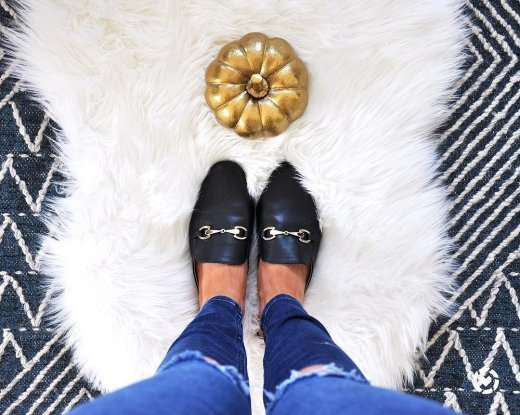 Happy Humpday and almost 2018! Is anyone else as in shock about that as I am? I feel like I say this every year but this year really flew by. How was everyone's Christmas break? I spent most of last week and Christmas weekend sick but I'm finally feeling better (yay!). And just in time for New Year's Eve! Since I've been spending a lot of time on the couch I've been doing a lot of online shopping and I found some great save vs. splurge items I just had to share with you on the blog today!
1 // These backless fur mules have been everywhere this season. Comfy, cute and warm? I can totally see why! There's a Gucci version that's $1k, but seriously, who has $1k lying around to spend on mules? Obviously not me! I found a
$90 pair
that look really similar but how can you pass up a pair that are only
$25
?
2 // I'm all about the D'Orsay flats are
these
FP ones are perfect... minus the $200 price tag. So when I saw
these
replicas for $38 I was giddy! I love that they come in 6 different colors too!
3 // I'm not going to lie, I definitely splurged when I bought
these
Stuart Weitzman over the knee boots and they were worth every penny but I've found several pairs that are almost so close to mine, you wouldn't be able to tell the difference. The main reason I went with the splurge is because my legs are so skinny but if
these
would have come in my size I would have definitely scooped them up, especially since they're less than $100!
4 // Everything about
these
suede lace up pumps is perfection... except the almost $900 price tag. So when I saw
these
dupes that are just as cute, way more comfy and they're less than $70?! Yes please!