Humpday Confessions
6/25/2014
So I've decided to try something new and join along with Katy at Vodka and Soda for the Humpday Confessions this week! With my birthday right around the corner I figured might as well get a few confessions off my chest before starting a new decade!
Before I start my confessions can we just take a moment to appreciate how freaking gorgeous Ian's eyes are? I'm sorry but Jeremy Meeks doesn't even come close to Ian. I'm all for the bad boy hottie but I prefer my men to not have a rap sheet that includes two years in prison and be a part of one of the most notorious gangs in the United States. Thanks but no thanks.
With that being said, lets go ahead and kick this thing off. I confess that every time I'm sick (or home alone, or working from home, or not in the mood to make anything for lunch/dinner, or numerous other scenarios) I make an entire pot of Kraft mac and cheese and eat the whole thing. Right out of the pot. No need to mess up any extra dishes when it's not necessary, right? Just grab a pot holder and go. At least I use a regular spoon (sometimes). If that wasn't enough... it HAS to be the spiral mac and cheese with the powder cheese. No liquid gold for me and don't even try to serve me other shapes. Not happening.
I confess that I love three ways. Yup, you read that correctly. I. Love. 3-ways.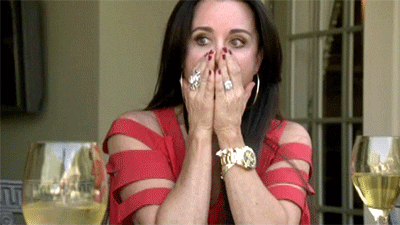 Oh come on guys, get your mind out of the gutter! I'm from Cincinnati, home of the chili three-way and I have to admit, living in Florida I miss them from time to time. Specifically right now. If you're ever in the Cincinnati area do me yourself a favor and stop into a Skyline Chili and get one. Don't worry, there are literally more Skyline's then McDonald's in Cincinnati so you should have no trouble finding one!
I confess it drives me nuts when people write you/tweet you/etc and are like "Hey! I'm following you now, I'd love a follow back!" First of all, I can look to see if you're following me or not. Most of the time when someone messages me this type of message, guess what? They're usually NOT actually following me. It drives me even more nuts when you see these same people mass sending out the same message and I look at their account and they're actually following like 10 people but they have over 700 followers.
I confess that I get a little stabby when I go to the the gym and I'm FINALLY sucking it up and doing cardio and the one treadmill I like is being used. The thing is, I absolutely hate doing cardio. Hate, loath, despise...however you want to call it. I do spinning once a week but every once in awhile I skip and have to do it on my own and the only thing I can stand doing for more than 10 minutes is this treadmill that has a ridiculous incline and there's only one of them in the entire gym. So when I walk in and someone is on my treadmill walking at a leisurely 3 mph pace at a 0% incline I really want to throw something at them.
Finally, while on the gym confessions... I confess that it irrationally irritates me to see someone texting or talking on their phone while working out. Really? The gym is my "me time" to disconnect from the world and focus on myself, the last thing I really want to do while working out is listen to you complain about your day at work or your roommate or whatever else you feel like complaining about. And then when you get mad at me for listening in on your conversation when you're two feet away from me and chatting loudly... yeah.
On that note, I'm out! Hope you enjoyed my Humpday Confessions!